Invisalign® is a ground-breaking orthodontic treatment system that straightens your teeth and corrects your bite issues without the use of dental braces.
Invisalign® uses a system of aligners made from transparent plastic material, that is custom designed to fit onto your teeth using advanced dental imaging technology.
Using our 3shape Trios intraoral imaging scanner, we can create a 3D scan of your mouth to design every step of your treatment plan from beginning to end.
The software also allows you to see a detailed representation of how your teeth will look like after the treatment.
Using Invisalign® is both easy and convenient. You will receive a set of aligners, one for each stage of the treatment.  Wear each aligner every day for 20-22 hours for 14 days; then switch to the next aligner in the series. Repeat this process until you have finished using all your aligners.
Throughout your treatment, you will have regular check-ups with your dentist to assess the progression of your treatment.
Invisalign® is one of the subtlest orthodontic treatment systems available on the market. Because it's almost invisible to the eye, you can wear their aligners confidently, without worrying about their appearance.
As Invisalign® aligners are removable at any time, you can take them out during meals and when brushing and flossing their teeth.
Additional perks for Invisalign® patients
At The Newmarket Road Dental Clinic, we offer a range of benefits for all our Invisalign® patients, such as:
Free initial consultation worth £60
Free whitening treatment worth £350
Free 3D scan worth £300
Free fixed retainers worth £300
Zero-interest financing option
Is Invisalign® appropriate for teens and children?
While Invisalign® was initially designed for adults, its success led to the creation of Invisalign® Teen which offers some unique features for developing mouths such as power ridges to guide roots to grow in the right spot.
How do I keep the aligners clean?
The Invisalign® cleaning system is the best way to clean your aligners, but they can also be cleaned using a toothbrush and water.
The Newmarket Road Dental Clinic is an Invisalign® Platinum Elite provider.
As a Platinum Elite provider, we are recognised by Align Technologies (the company behind the Invisalign® system) as an accredited and highly experienced dental provider of the Invisalign® system.
This accreditation is given only to dental practices that have completed a minimum number of successful Invisalign® treatments each year. This distinction enables patients to know they are working with a dentist who has the knowledge and experience to create healthier, straighter smiles.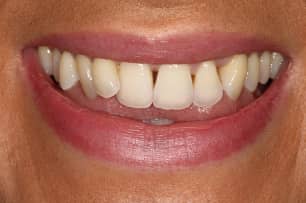 Before                                        After
For more Invisalign® cases click here
For a brighter and healthier smile, please call The Newmarket Road Dental Clinic on 01603 505 443 or Contact us
< Back to the Treatments