What is SmileFast?
SmileFast is a revolutionary Smile Makeover system only available with our cosmetic dentists in Norwich.
It is a cutting edge Composite Bonding technique that's affordable, quick and non invasive.
What is Composite Bonding?
Bonding, which is also known as Cosmetic Bonding or Composite Bonding, is a great way to disguise the shape, size and colour of the natural teeth. The process involves adding a tooth-coloured material known as Composite, permanently to the surface of the tooth. It can mask very mild crookedness, close up spacing and restore worn down teeth.
How does it work?
We can modify the front 4, 6 or 8 teeth and it would be carefully calculated following the principles of aesthetic smile design to avoid the teeth looking out of proportion.
Following photos and a digital scan of your mouth, a digital diagnostic template would be 3D printed and copied into the mouth. There is no drilling or removal of the natural tooth, only some minimal roughening/sanding so the material adheres better.
We can restore any tooth wear or mild crowding that has occurred and also create symmetry, and the correct morphology to produce perfectly shaped teeth. It is usually performed in 1 visit in 2-3 hours.
How long does it last?
Composite is considered a highly aesthetic, permanent material. It is durable and wear resistant, and will look at its best for around 6-8 years. At this stage, the composite may have stained or chipped, but can easily be replaced, repaired or polished. But if you maintain good oral hygiene and dietary habits, nowadays the composite fillings can remain clinically successful for more than 10 years, albeit slightly lack lustre.
Does it damage teeth?
The main advantage of composite bonding is that it does not demand deep and heavy tooth preparation.
It is considered non-invasive, non-destructive and reversible. You should be aware that this addition can be removed from the surfaces of the teeth but should be regarded as only 99% reversible as the surfaces must be altered in order to get the glue to stick.
How much does it cost?
Bonding starts from £200 per tooth for very simple edge bonding, but the more complex bonding is £400 per tooth.
Composite Bonding vs Veneers?
There are 2 types of Bonding: 'Edge Bonding' and 'Veneer Bonding'.
With Edge Bonding, the composite is added to the biting edges of the teeth and in the 'gaps'. It is artistically blended into the existing teeth allowing your smile to be enhanced and offering a more natural look. It takes a lot of skill and expertise to be able to hide the join between the composite and tooth.
With Veneer Bonding, the composite is bonded over the entire surface of the tooth to completely camouflage the underlying tooth. It can allow us to change the length, shape, proportions, and colour of the teeth. This takes a lot of skill and precision to ensure the composite is the right thickness and contour, and does not lead to gingivitis.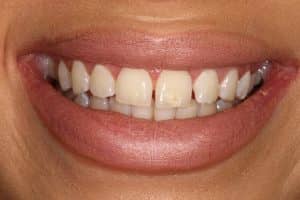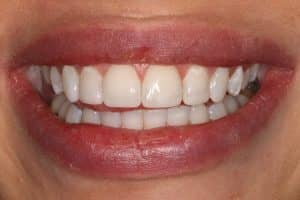 For a brighter and healthier smile, please call The Newmarket Road Dental Clinic on 01603 505 443 or Contact us
< Back to the Treatments