Dental bridges are a type of dental appliance used for replacing one or more missing teeth restoring your smile and the function of your teeth.
A fixed bridge is attached to neighbouring teeth, and prosthetic teeth fill the gap for an aesthetically pleasing look.
Why might I need a bridge?
Significant gaps between teeth can cause dental problems in your other teeth, such as misalignment or an under/overbite. Your facial structure can also be compromised because you begin to lose jawbone in the gap and as your other teeth drift into the space, they can become more challenging to keep clean.
A fixed dental bridge can improve your facial shape and your ability to chew and speak.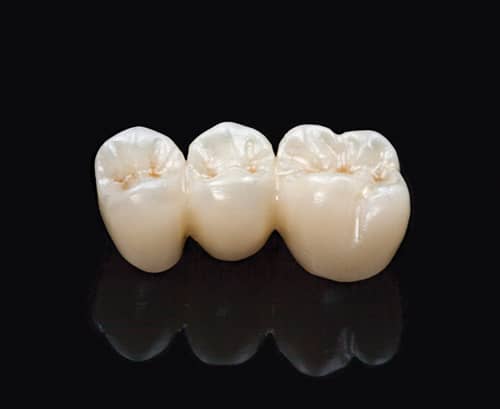 How are dental bridges fitted?
Your dentist begins by reshaping and contouring the teeth on either side of the gap, and a colour that matches your natural teeth is selected for the prosthetic teeth.
A scan is taken and sent to a dental lab for fabrication of the bridge. In the meantime, a temporary bridge is placed to protect your anchor teeth until your permanent bridge is ready.
When your permanent bridge is ready, your dentist places and fits it in place using dental cement.
How should I look after my bridge?
Typically, a bridge should last between 10-15 years with proper dental habits. If you practise good oral hygiene, you can prolong the life of your dental bridge.
For a brighter and healthier smile, please call The Newmarket Road Dental Clinic on 01603 505 443 or Contact us
< Back to the Treatments