When your tooth pulp is infected or injured, your dentist will recommend you undergo a root canal treatment.
What does root canal treatment involve?
After the area is numbed, your dentist will make a small opening in the tooth to clean out the infected pulp using a small file.
Next, your dentist will disinfect the tooth, and then finally seal the cavity. The tooth's appearance and function are restored with a filling or a dental crown.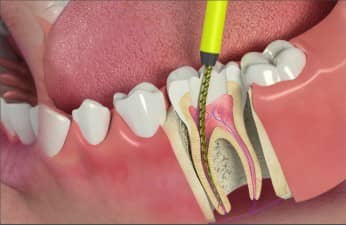 How do I know if I might need a root canal treatment?
Some of the common signs of dental pulp infection are:
Aching in the tooth
Discomfort in the jaw, cheek, or ear area
Swelling around the cheek or jaw area
Trouble chewing food properly
Increased tooth sensitivity to hot and cold foods
How will I feel after the procedure?
After your root canal treatment, you may feel some slight soreness around the affected region, but this should dissipate within a couple of days.
You can manage any discomfort using over-the-counter painkillers.
For a brighter and healthier smile, please call The Newmarket Road Dental Clinic on 01603 505 443 or Contact us
< Back to the Treatments